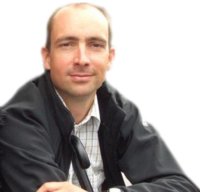 Chairholder
Prof. Dr.
Tobias
Hoßfeld
Room:

SM 208 (Schützenbahn Mittelbau)

Phone:

+49 201 18-34431

Email:

Consultation Hour:

nach Vereinbarug

Address:

Universität Duisburg-Essen, Campus Essen
Fakultät für Wirtschaftswissenschaften
Modellierung adaptiver Systeme
Schützenbahn 70
45127 Essen
Curriculum Vitae:
10/1997 - 9/2003: Dipl.Inform. at University of Würzburg, Germany; Computer Science with minor physics (Diplom); Mathematics with minor physics (Vordiplom).
10/2003 - 8/2009: Dr. rer. nat. at the University of Würzburg (summa cum laude). PhD tesis "Performance Evaluation of Future Internet Applications and Emerging User Behavior".
9/2009 - 5/2013: Habilitation at the University of Würzburg on "Modeling and Analysis of Internet Applications and Services".
4/2004 - 8/2009: Research assistant at Chair of Communication Networks, Prof. Dr.-Ing. P. Tran-Gia, University of Würzburg
2/2008 - 8/2014: Head of the FIA research group "Future Internet Applications & Overlays"
9/2009 - 5/2011: Senior researcher & assistant professor (Akademischer Rat) at the University of Würzburg
6/2011 - 9/2011: Senior researcher at Forschungszentrum Telekommunikation Wien (FTW), Vienna, Austria
10/2011- 5/2013: Senior researcher & assistant professor ("Akademischer Rat") at the University of Würzburg
6/2013 - 8/2014: Assistant professor ("Privatdozent") at the University of Würzburg
Tutored Theses:
Statistische Charakterisierung der Einflussfaktoren auf die Nutzerbindung von Computerspielen (Bachelor Thesis 0, 2017)
Analyse von Bandbreitenmessmethoden in Mobilen Netzen (Master Thesis Computer Science, 2016)
Alternative call metrics and their performance with support vector classifiers in SPIT detection (Bachelor Thesis Computer Science, 2016)
Benutzerorientierte Leistungsbewertung von virtuellen Arbeitsplatzumgebungen mittels Slow-Motion Benchmarking (Master Thesis Computer Science, 2015)