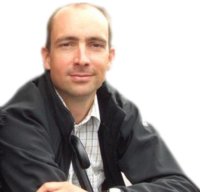 Chairholder
Prof. Dr.
Tobias
Hoßfeld
Room:

SM 208 (Schützenbahn Mittelbau)

Phone:

Email:

Consultation Hour:

nach Vereinbarug

Address:

Universität Duisburg-Essen, Campus Essen
Fakultät für Wirtschaftswissenschaften
Modellierung adaptiver Systeme
Schützenbahn 70
45127 Essen
Curriculum Vitae:
University Education
10/1997 - 9/2003: Dipl.Inform. at University of Würzburg, Germany; Computer Science with minor physics (Diplom); Mathematics with minor physics (Vordiplom).
10/2003 - 8/2009: Dr. rer. nat. at the University of Würzburg (summa cum laude). PhD tesis "Performance Evaluation of Future Internet Applications and Emerging User Behavior".
9/2009 - 5/2013: Habilitation at the University of Würzburg on "Modeling and Analysis of Internet Applications and Services".
Work Experience
4/2004 - 8/2009: Research assistant at Chair of Communication Networks, Prof. Dr.-Ing. P. Tran-Gia, University of Würzburg
2/2008 - 8/2014: Head of the FIA research group "Future Internet Applications & Overlays"
9/2009 - 5/2011: Senior researcher & assistant professor (Akademischer Rat) at the University of Würzburg
6/2011 - 9/2011: Senior researcher at Forschungszentrum Telekommunikation Wien (FTW), Vienna, Austria
10/2011- 5/2013: Senior researcher & assistant professor ("Akademischer Rat") at the University of Würzburg
6/2013 - 8/2014: Assistant professor ("Privatdozent") at the University of Würzburg
Tutored Theses:
Statistische Charakterisierung der Einflussfaktoren auf die Nutzerbindung von Computerspielen (Bachelor Thesis 0, 2017) AbstractDetails

Die Computer- und Videospiel-Industrie wächst stetig weiter und erfreut sich immer größerer Beliebtheit. Insbesondere das Spielerverhalten und die Bindung der Spieler an ein Produkt ist für diese Industrie besonders interessant. Diese Arbeit befasst sich daher besonders mit dem Nutzerverhalten der Videospiel-Plattformen Steam und Twitch.tv. Es wird eine empirische Untersuchung der Spieler- und Zuschauerzahlen durchgeführt und unterschiedlichste Effekte auf die Spielerzahlen dieser Spiele analysiert. Im Zuge dieser Analyse wurden viele Faktoren gefunden, die eine eindeutige Auswirkung auf die Spielerzahlen der gemessenen Computerspiele haben. Allerdings konnten auch einige vermutete Effekte in dieser Messung nicht bestätigt werden.

Analyse von Bandbreitenmessmethoden in Mobilen Netzen (Master Thesis Computer Science, 2016)
Alternative call metrics and their performance with support vector classifiers in SPIT detection (Bachelor Thesis Computer Science, 2016) AbstractDetails

Mit zunehmener Kostensenkung von Telekommunikationsdiensten und dem zunehmend einfacheren Zugang zu selbigen werden auch Spamanrufe, die in Form und Umfang mehr mit der Spammail als mit der Werbung lokaler Dienstleister gemein haben, wirtschaftlich tragfähig und stellen somit eine Ergänzung im Arsenal der Spammer dar. Um dem entgegenzuwirken wurden für den Geschäftsbereich bereits Methoden entwickelt, die die Anrufdauer und die Vernetzung zwischen Kommunikationspartnern verwenden, um Spamanrufe zu erkennen und den Angerufenen vor dem Anrufer warnen. Whoscall ist ein Dienst, der über eine Smartphoneapp

Informationen über Anrufe und Anrufer sammelt und dem Nutzer die Möglichkeit gibt, den Anrufer als Spammer zu melden. Die gesammelten Informationen werden den Nutzern dann bei weiteren Anrufen angezeigt, um den Nutzer bei der Entscheidung über Annahme oder Ablehnung des Anrufs zu unterstützen. Basierend auf einem anonymisierten Auszug des Datensatzes von Whoscall evaluieren wir die Leistung sowohl von bereits etablierten Metriken wie der durchschnittlichen Anrufdauer und der normalisierten Anrufsfrequenz als auch Alternativmetriken wie dem Median der Anrufdauer, anrufdauerbasierte Metriken basierend auf dem

Anrufsverhalten des Benutzers und Metriken basierend auf der Approximation der Verortung des Anrufers relativ zur Verortung des Benutzers oder dessen sozialen Netzwerkes. Wir testen diese Metriken mit dem Support Vector Machine Klassizierungsalgorithmus in der Erkennung von Interaktionen mit Spammern. Dabei wollen wir herausfinden, ob die Klassifizierungsleistung vergleichbar ist mit den aktuellen graph-basierten Methoden, die von FrauDetector verwendet wurden. Unsere Ergebnisse zeigen, dass einige alternative Metriken basierend auf der Nähe des Anrufers zum Benutzer oder der relative Median der Anrufsdauer brauchbare

Indikatoren zur Verwendung mit graph-basierten Ansätzen sein könnten, diese aber keine bessere Leistung als die normalisierten Anrufsfrequenz versprechen. Weiter stellen wir fest, dass die Klassifizierungsleistung der Support Vector Machine auf dem Niveau von FrauDetector liegt, sich beide Ansätze aber in der Art des verursachten Klassifizierungsfehlers unterscheiden.

Benutzerorientierte Leistungsbewertung von virtuellen Arbeitsplatzumgebungen mittels Slow-Motion Benchmarking (Master Thesis Computer Science, 2015) AbstractDetails

Im Rahmen dieser Master-Thesis wurde die vMon-Methode entwickelt. Diese stellt ein Werkzeug zur Verfügung, mit dessen Hilfe die Benutzbarkeit und Qualität einer VDIUmgebung zu beurteilen. Diese Beurteilung erfolgt dabei aus der Perspektive der Benutzer. Es wurde eine Referenzimplemetierung der vMon-Methode programmiert und in einer Evaluationsumgebung auf den Prüfstand gestellt. Dabei wurde gezeigt, dass verschiedene Parameter Einfluss auf das Ergebnis der vMon-Methode haben. Neben der richtigen Beurteilung des Ergebnisses sind zudem weitere Experimente in einer VDI-Umgebung mit mehreren VDI-Hosts notwendig. Wenn diese Studien positive Ergebnisse liefern, ist ein Einsatz im Produktivbetrieb sinnvoll. Zwar ist die vMon-Methode, aufgrund ihrer Laufzeit, nicht für die Überwachung einer VDI-Umgebung in Echtzeit geeignet, kann aber in Kombination mit klassischen Überwachungsverfahren (wie zum Beispiel der Überwachung der Systemlast der einzelnen VDI-Hosts) eine gute Ergänzung darstellen. So können Auswirkungen (Impact) und Dringlichkeit (Urgency) eines Ereignisses auf die Benutzer einer VDI-Umgebung bewertet werden. Als Beispiel sei hier der Ausfall eines VDI-Hosts genannt. Durch die vMon-Methode kann nun konkret ermittelt werden, welche Einbußen durch dieses Ereignis in Kauf genommen werden müssen. Dies erleichtert zudem eine bedarfsgerechte Planung der eventuell nötigen Maßnahmen.